Personal Note From Josh and Laura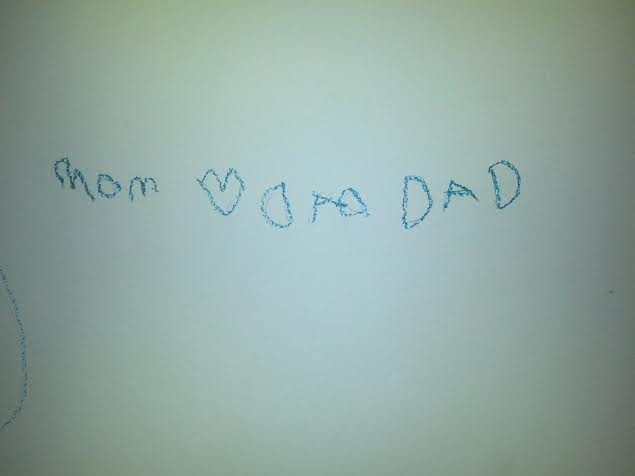 It seems the holidays are starting sooner than ever this year. We just heard that KOST is already playing Christmas music and our inbox is full of emails from family members asking about our holiday plans. We woke up to Conrad informing us that all of his friends and even one of their mom's agreed that Saint Nick should bring him a new bike over a razor this year. And so it begins. We're not sure whether to feel excited or go hide in a cave.

As we gear up for the bigger events, we are reminded that it really is the simple day to day moments that make our lives so special. The picture above is some adorable graffiti our five year old wrote on our wall. This will definitely be included on our Thanksgiving list this year.

All the best,

Weekly Quick-Step For the Prosperous Family

Quick Step: Make Thanksgiving more meaningful.

What it is: Embrace the spirit of the holiday this year by adopting a new tradition that highlights gratitude, giving, and community (and have fun doing it).

Why you need this: Turkey, stuffing, and pumpkin pie might be the stars of the show, but we all know it's really about loving others and feeling loved that makes Thanksgiving so special.

How to do it:

Praise. Many of us gather at Thanksgiving and speak about what we are thankful for, but don't always articulate why we are thankful. For example, instead of just saying "I am thankful for my job", trying including specific reasons why you are thankful such as "because it allows me to spend more time with my kids, or I get to work with great clients, or it helps me provide for my family."
Repair. It's easy to express thanks for what or who we love, and to push away people or things we see as undesirable or broken. Thanksgiving season is a good time of year to look at the breakage in our lives, the relationships that have gone awry, or the projects or promises we have made but broken, and take a positive step toward repairing them.
Include. Invite someone who doesn't have a place to go to join you on Thanksgiving. Whether it's a work colleague or a friend of a friend, if you hear of someone who will be alone on Thanksgiving, invite him or her to your home to share this special meal. If a dinner seems too intimate, try inviting them to go for a hike Thanksgiving morning or meet up for breakfast. It really can make a difference in someone's life.
Talk. Put away the electronic devices, turn off the speakers, give breathing room to hectic holiday schedules, and engage people near and far in heartfelt conversation. Go beyond topics like the weather and sports to listen, learn, and laugh. Connect with people face-to-face and heart-to-heart and fill up on fellowship instead of just food.
Spend time outside. Take a hike, play football, or sit around an outdoor fire and talk with your family and friends. With all of the cooking and eating indoors, it is refreshing to balance out the day with some crisp air.

Source: beliefnet.com

How Advance Medical Directives Became a Way of Life In One American Town

With just over 50,000 residents, La Crosse is a lot like other small American towns – but there is one thing that makes La Crosse stand out: 96% of La Crosse residents who have died have had an advance medical directive in place. Nationally, the percentage of Americans with an advance directive stands at about 30%.

Actually, there are two things that make La Crosse stand out: the town also has lower healthcare costs than any other place in the U.S. And these two things – a high incidence of residents with advance directives and low healthcare costs — are inextricably linked.

We want to sincerely thank UP of Southern California, Boys and Girls Club of Laguna Beach, and Chabad of Irvine Preschool for hosting our Kids Guardian Workshop.

Thank you so much for all of your referrals! Thank you especially to Darla Serrano, Josh Anderson, Kay Flierl, Mike Hauxhurst, Kris Reddaway, Alex Goldberg, David Wagner, and Trey Harding.

About Joshua and Laura Meier

Joshua and Laura Meier

are top California family trust attorneys and the parents of four young children. Their law practice is dedicated to guiding families.

Josh and Laura conduct the popular Kids Guardian Workshop throughout Southern California and have been featured on NBC, ABC, CBS, FOX, WORTH, OC Metro, ParentingOC, and more.

Kids Guardian Workshop

Clever Endeavors School

11/14/14

Kids Guardian Workshop

Temple Bat Yahm

12/4/14 & 12/5/14

Request your copy of Laura's new book

Meet with Joshua or Laura Meier

Be confident knowing that your family is completely taken care of!

Schedule a planning session

with Meier Law Firm and learn how you can create a family estate plan or have your existing plan reviewed.

Click here

to schedule online or call 949.718.0420.