Personal Note From Josh and Laura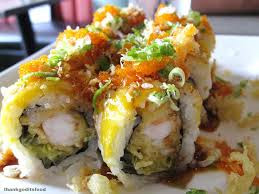 We were lucky to sneak out for a date night with great friends to one our of favorite sushi spots - Sushi on Fire in HB. If you like sushi rolls, this is the place to go as it has a huge list of creative and delicious rolls. Ken's Special Roll is Josh's favorite and the Refreshing Roll is Laura's pick.
We can't believe that school is right around the corner! It is time to start dropping off school forms, buying clothes and supplies, seeing the doctor and dentist, and hopefully getting in one last family trip!
To help make the transition from summer back to school a smooth one for everyone, this week's quick step is on the 10 Things To Do Before School Starts. Good luck!
Weekly Quick-Step For the Prosperous Family
Quick-Step: 10 Things To Do Before School Starts
What it is: Preparing your family for start of a new school year.
Why you need this: With summer winding down, it's likely that your family got on a much different schedule without school every day. But jumping back into school doesn't have to be too painful. These steps will help make transitioning back to school easier for everyone!
Estimated time: 10-15 minutes each day.
How to do it:
Back to bedtime basics. Start getting your kids back to their normal bedtime routine. If your kids have been staying up later than they normally do during the school year, try slowly getting them in bed a few minutes earlier each night until they are back to normal. Avoiding a drastic change will be helpful for everyone!
Practice your child's school route. Do your kids walk or ride their bike to school? Do they ride a bus? Or do you drop off and pick up everyday? Make sure your children know where to go and have backups planned.
Update your calendar. The new school year will bring a whole new schedule of after school activities and other meetings like parent teacher conferences.
Identify and sign up for after school programs. Many schools and communities offer programs for your kids that supplement normal school. There are sports programs, language programs, cooking classes, or study sessions.
Coordinate a carpool. Whatever your child's schedule this school year, they are likely to have friends doing the same things as them. Starting a carpool can save you a lot of time and gas!
Create a menu for the first week or month of the school year. Planning a special menu full of healthy foods for your kids can help keep them awake and alert in class. By planning out a menu now you can take a lot of the hassle out of those first weeks of school for yourself and your kids.
Take your kids for their immunizations and annual checkup. Nobody really likes to go to the doctor, but if your kid is due for some shots or a dental exam it will be easier for everyone if you get it done before school starts. Doctors and dentists will often work extra days before the new school year to accommodate more patients.
Review last year's schoolwork. This sounds like a nightmare for most kids, but just asking them a few questions each day about things they learned the previous year will help get their brains back in "school mode." It doesn't have to be a chore - just a few questions to help get them in the mindset.
One last fun event. School is coming up fast, but there is still time to do something fun before it starts. By having an "end of summer event" your kids will get to enjoy the last bit of summer and understand that the transition back to school is about to happen.
One last thing - Celebrate! Although school is a lot of work for parents and kids, you won't need to entertain your kids while they are at school like you did during the summer. Use this time to focus on yourself and accomplish some of your own personal goals!
Source: http://living.msn.com/family-parenting/raising-kids/10-things-to-do-before-school-starts#10
If You Don't Trust Your Kids With Money, You Need a Trust
While most parents have the best intentions when it comes to teaching their children about handling finances wisely, sometimes the lessons don't take. In addition to concerns about spendthrift behavior, some children experience problems with substance abuse or have mental issues that make giving them access to wealth a problem. This is where a trust can be a parent's best friend.
We have several events planned for September and October. Check our events website at
www.meierevents.com
for more information and to register.
Would you like us to conduct a workshop for your group?
We want to sincerely thank the following people for their referrals:
Brian Davis, Esq.
Kris Reddaway
James Warner, CFP
Ryan Dwight
We also want to thank our recent workshop hosts:
United Cerebral Palsy of Orange County
Debra Curry, CFP