Personal Note From Josh and Laura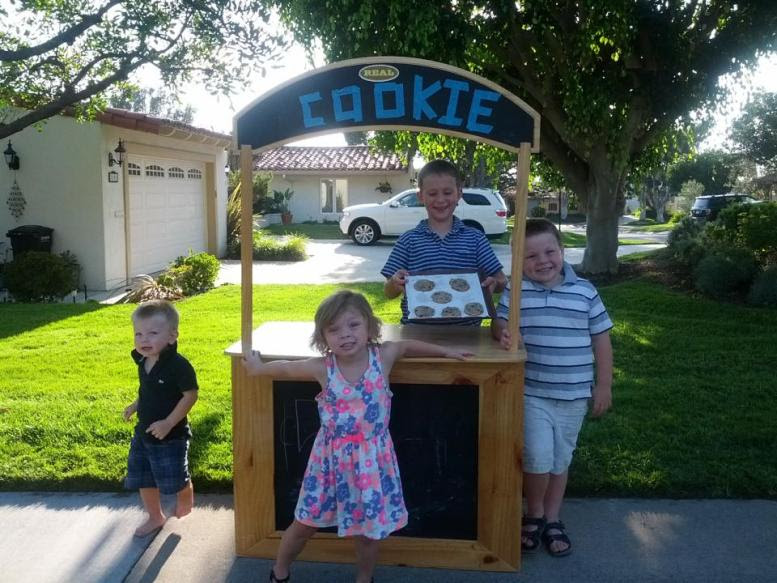 This past week was filled with milestones for our family. We celebrated Andrew's 2nd birthday on Tuesday! He loves his new fishing game :) Then Jack lost his first tooth. He was very excited to lose his tooth and even more excited when he found money under his pillow!
Conrad started a cookie business with Jack and Kate as his assistants. It's been fun seeing them market the business and even more interesting listening to them negotiate with each other on what their cut of the profits should be. But the biggest business lesson for Conrad came when someone got cookies and then drove off without paying. Conrad was floored that someone would actually do that. This event inspired this week's
quick
step
on how to help our kids develop leadership skills.
All the best,
Weekly Quick-Step For the Prosperous Family
Quick-Step: Creating an environment that will allow your children to become leaders.
What it is: Take proactive steps to develop leadership skills in your kids and make sure you avoid the 7 parenting behaviors that inhibit leadership growth.
Why you need this:
Without even knowing it, parents can be interfering with their children's ability to grow and achieve their full potential. Kathy Caprino writing for Forbes identifies what she calls "7 Crippling Parenting Behaviors that Keep Children from Growing into Leaders":
We don't let our children experience risk.
We rescue too quickly.
We rave too easily.
We let guilt get in the way of leading well.
We don't share our past mistakes.
We mistake their intelligence, giftedness, and influence for maturity.
We don't practice what we preach.
For a detailed description of these points check out the article on Forbes: 7 Crippling Parenting Behaviors that Keep Children from Growing into Leaders
Estimated time: 5-10 minutes
How to do it:
Knowing about the potential crippling behaviors is a start, but below are proactive steps you can take to help your child become a leader.
Talk over the issues you wish you would've known about adulthood.
Allow them to attempt things that stretch them and even let them fail.
Discuss future consequences if they fail to master certain disciplines.
Aid them in matching their strengths to real-world problems.
Furnish projects that require patience, so they learn to delay gratifications.
Teach them that life is about choices and trade-offs; they can't do everything.
Initiate (or stimulate) adult tasks like paying bills or making business deals.
Introduce them to potential mentors from your network.
Help them envision a fulfilling future, and then discuss the steps to get there.
Celebrate progress they make toward autonomy and responsibility.
Many of these discussion can happen organically out of everyday situations and can have a very positive, life-long impact.
How To Protect Your Real Estate Assets
If you own real estate, chances are you have purchased insurance to protect your assets against damage or loss. But have you taken the necessary steps to protect your assets against lawsuits or probate?
If you own rental properties, there is likely a nagging fear in the back of your mind about being sued by one of your tenants. And if there isn't, there probably should be. It's a major risk.
And while it may be heartbreaking to think about, there is always a chance your death could trigger a family feud over your home, vacation home or other real estate investments.
Two common estate planning tools for real estate asset protection are limited liability companies (LLCs) and trusts.
Join us at an upcoming event and invite a friend to come! It's always great to see you.
Kids Guardian Workshop
Date: October 7, 2014
Time: 6:00pm - 7:15pm
Location: Marguerite Christian School
26558 Marguerite Pkwy, Mission Viejo, CA 92692
We want to sincerely thank Keith Baumgarn and Anh Tu for your referrals